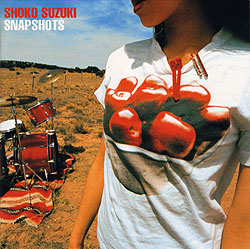 Snapshots, released June 21, 1995, is generally considered the album where Shoko Suzuki's music went rock. Of course, this isn't something on the scale of Dylan going electric, as Shoko had recorded rock songs as far back as her first album…and she would continue to showcase pop songs and ballads on her future works. However, her musical style definitely changed on this record: whereas Shoko's previous albums were rooted more in contemporary pop and balladry, from here on out her style would be rooted more in a '60s rock style, with numerous stlyistic divergences (country, jazz, blues, etc.) occurring from there. It's sort of like how Sgt. Pepper's Lonely Hearts Club Band and The Beatles are considered "classic rock" albums, but have numerous different styles — often non-rock — contained within (and really, that's not a bad metaphor for Shoko's career as a whole). I feel I should note that, from this point on, I consider pretty much everything Shoko released to be fantastically great. While there are bits of the eariler albums I might not care for too much, I pretty much have nothing bad to say about anything Shoko has released since 1995.
Interestingly, this album was not initially conceived as a "Shoko Suzuki" album. After the sessions that produced her previous mini album, Shoko decided to form a rock band with her husband/producer Hiroaki Suagawara and Sony A&R executive Takeshi Namura. The band, named "Snapshots," featured Shoko on lead vocals, drums and occasional keyboards, Sugawara on guitars, keyboards and backing vocals, and Namura on bass and occasional guitar. The trio was assisted in the studio by a number of friends and colleagues, including the horn section from Tokyo Ska Paradise Orchestra, keyboard player Tsuehiko Yashiro, and multi-instrumentalist KYON (who still works with Shoko to this day). Also, for the first time in her career, Shoko began collaborating on song compositions: a number of songs on the album were co-written by Shoko and Hiroaki Sugawara in tandem (while before Shoko handled almost all composing by herself). Additionally, one track was written and composed by former Utopia member Mark "Moogy" Klingman (somewhat fitting, as Shoko is a big fan of Todd Rundgren, Utopia's leader), and another was composed by the rock band GREAT3 (who would release their debut single a couple of weeks after Snapshots was released) — oddly enough, this gives Shoko Suzuki a link to Shonen Knife, as GREAT3's bass player (Kiyoshi Takakuwa) played bass on Shonen Knife's 1999 single "Yamucharou de Mecha Umakarou" (a single which I purchased at the last Shonen Knife concert I attended).
For the first time ever, Shoko handles all the drum parts on an album; her apparent pride in her drumming extends even to the album cover, which prominently displays her beloved red Ludwig drum kit (one of the alternate back cover images has a snapshot of her and the kit, with the caption "Look!! it's my ludwig '62!!"). In addition, on the track "#7 Shuffle" she handles nearly all of the instruments (including guitar and piano), a bit of foreshadowing of her Love, painful love record five years down the road.
Of course, Epic Sony Records probably wasn't keen on the whole Snapshots/rock band thing — after all, Shoko's last full-length album for them had reached the top 20; it can be assumed Epic Sony didn't like the idea of their rising pop star suddenly being hidden behind a drum kit in an untested, unknown rock group (as this was several years before the trend of female-fronted rock groups in Japan, like detroit7 and GO!GO!7188; heck, even Puffy wouldn't debut for another year at that point, and Ringo Shiina was still a couple of years away from debuting. And the few female dominated bands around at that time — like Shonen Knife and Seagull Screaming Kiss Her Kiss Her — never made huge waves commercially). So while the resulting record — which itself was named "Snapshots" — is credited as being produced and arranged by the band Snapshots (complete with a credit listing the band members), that's the only mention of the band's name anywhere on the record, which was otherwise credited solely to Shoko Suzuki.
As might be expected, Shoko's change in musical direction was a bit difficult for her fans and her record company to take. One can imagine Shoko's longtime fans, used to her usual pop and ballad stylings, getting hit in the face with the opening track, "Happiness?" — not the same song as her 1991 single "Happiness" — and wondering what the heck was going on. Grungy guitars, a prominent, pounding bass line (Takeshi Namura seems to be of the Paul McCartney school of bass playing, which is A-OK in my book), and Shoko's effects-laden lead vocal were a pretty vast departure from what had come before on previous albums. Not only that, but Shoko's visual image had drastically changed as well; whereas in old pictures she was often in pantsuits, long skirts, jackets and hats, suddenly the Snapshots CD booklet showed her buzzing around New Mexico in red miniskirts, navel-showing shirts, and high heels (Shoko has even written about how, at the time, she received many letters from her fans essentially saying they stopped being fans because of this album).
The end result was that Snapshots barely broke into the Top 40. This was seen as a huge disappointment by Epic Sony, especially following on the success of RadioGenic and Shoko Suzuki Sings Bacharach & David. If the RadioGenic experience hadn't turned her off from Epic Sony completely, then their lack of interest for Snapshots cemented it. At the end of her contract — after one more fantastic album the following year — she would leave the only record label she had ever known up that point, hopefully for greener pastures.
THE SONGS: (Click on a title for a sample, where applicable)
Happiness?
As I kind of noted above, this song lets the listener immediately know they're not in for the kind of album Shoko had put out before — heck, Shoko's distorted vocals alone would have been enough to drive that point home. There's definitely a late-'60s orchestrated rock vibe going on with this track. Definitely one of my favorites.
I may be the only person on the planet who thinks this, but Takeshi Namura is probably the best bass player to record with Shoko (either him or Shinobu Kawai, who pops up later). Like I noted above, he seems to come from the Paul McCartney school of bass playing, which probably colors my opinion somewhat; I love those fat, rubbery bass lines straight out of the late 1960s.
The SHO-CO-SONGS collection 3 set came with a bonus DVD, on which are eight songs taken from a live performance on October 5, 1995. A few of the tracks feature the core Snapshots band — Shoko on drums and vocals, Hiroaki Sugawara on guitar, and Takeshi Namura on bass — complimented by a few others (such as KYON on keyboards); the other tracks see Shoko climb out from behind the drums and front the band. This live version of "Happiness?" leads off the live DVD tracks, and features Shoko on drums and vocals.
Tsuki to Snapshots
This is the first Shoko song I fell in love with (well, of her own work; I fell in love with Puffy's "Koi no Line Ai no Shape" earlier). A great, fast-paced pop song driven by Shoko's drumming and a prominent harpischord part (and as I noted in a past review, I loves me some harpsichord). In some ways, this song reminds me of Care of Cell 44 by the Zombies (one of my favorite songs of all time).
And speaking of Shoko's drum part on this song: making its long-awaited return to a Shoko Suzuki album…it's the Shoko fill!
Oddly enough, this song — though never released as a single — received a promotional video, filmed in Santa Fe, New Mexico, mostly in front of the Father Sky Mother Earth Gallery & Expresso Bar.
This is another track featured amongst the live performances included on the SHO-CO-SONGS collection 3 DVD — once again Shoko plays the drums as Snapshots rock out.
Kinou Yume no Naka de
A fantastic mid-tempo rock song, accented by a mandolin line played by KYON. The arrangment of this song — slower, and slightly ballad-y while still remaining a rock song — shows the key difference between this album and Shoko's previous stuff. On past albums, traditional rock instruments like the Hammond organ and distorted guitar probably would not have been used. Because really, it's not so much that Shoko's songs themselves had changed, but how she recorded and arranged them (and a big credit for that probably goes to Sugawara and Namura).
This song is also among the live performances on the SHO-CO-SONGS collection 3 DVD; it's kind of amusing because the band (well, mostly the drummer — who is not Shoko) kinda screws up the part where the song comes out of the instrumental break.
For the second song in a row, a Shoko fill is heard (though this one is slowed down slightly).
In the Kitchen ~ Close to You
I must admit, I don't get what the point of this track is. It's just the sound of someone (Shoko) in a kitchen frying up some food, while in the background a radio is playing; eventually a very short cover of Burt Bacharach's "Close to You" (first made famous by the Carpenters in 1970; interestingly, Karen Carpenter — like Shoko — was a talented drummer and singer) starts playing. However, just as the song gets into it's second refrain the next track suddenly begins.
No sample because: the track is not even 90 seconds long, and it's not really a song — it almost more of a skit (which you can see in the "Close to You~True Romance" PV linked further down the review).
True Romance
The album's single, and one of the first tracks recorded for the album (according to Shoko, this and its B-side were probably the first songs cut during the recording sessions). A catchy pop rock song with a definite R&B influence via the Philly-style strings in the background. The lryics for this song were written by longtime Shoko lyricist Masumi Kawamura, the last time (to date) she wrote lyrics for Shoko.
The single version of this song (only available on the CD single and SHO-CO-SONGS collection 3; it's not even the version used in the PV) is slightly different than the album one. The performance is the same, but the track is mixed differently for each version. On the single mix, the drums are mixed way down and the Fender Rhodes & strings way up, while the drums are more prominent in the album mix. Since the two versions aren't that drastically different, though, I won't be supplying a sample of the single mix (awwww).
The True Romance promotional video, like that of "Tsuki to Snapshots," was filmed in New Mexico. This one, however, was filmed in and around Las Vegas, about an hour east of Santa Fe (local places like Estella's Cafe and the Kiva Theater can be clearly seen in the PV).
Umibe to Radio
Possibly the most upbeat song on the record. The track was composed by the band GREAT3, the members of which also provide backing vocals.
This is another track played live on the SHO-CO-SONGS collection 3 DVD — check out Shoko the go-go dancer!
For an amusing comparison to how much Shoko loosened up over the years, compare her stage presence in the above video with the "Koi wa Tsumi" performance I linked to back in my review for Viridian.
Crying in the Sunshine
A big, brassy pop song dominated by the Tokyo Ska Paradise Orchestra horn section. The track — sung entirely in English — was written by Mark "Moogy" Klingman, and features co-lead vocals by Hiroaki Sugawara.
#7 Shuffle
A really good rock song that goes in a bit of an unexpected direction with its jazzy instrumental break. Shoko plays most of the instruments on this track; Takeshi Namura plays bass, Hiroaki Sugawara plays synthesizers and Wurlitzer, and Yuhei Takeuchi plays the flute solo — beyond that, it's all Shoko. That makes this the first track on any of her records where Shoko plays guitar.
Ajisai
At this point the record mellows out a bit with a couple of slower pop songs, sounding similar to the orchestrated pop style of the Sings Bacharach & David album (though not quite as slick sounding). This is another track featuring the horn section from Tokyo Ska Paradise Orchesra.
Friends
A slower, lounge-style song with some nice lead and backing vocals courtesy of Shoko. Also, a vibraphone!
Goin' Home
The one track that might not sound too out of place on Shoko's previous records, a nice (mostly acoustic) pop song with a catchy refrain (and one that also contains the surely-by-now-famous "Shoko fill").
Once again, this is a song that is featured live on the SHO-CO-SONGS collection 3 DVD.
Yoru no Naka e
A wonderful song with mellower verses that build into a pretty powerful chorus. Some more nice vocal work from Shoko on display here.
Good Old Dusty Road
Shoko even eschews her usual album-closing ballad, opting instead for a bouncy rock number (with brass, once again, courtesy of Tokyo Ska Paradise Orchestra). The horn section in the instrumental break reminds me a bit of "Black Messiah" by the Kinks (NOTE: I searched YouTube for a link to put here…that was a bad idea).
BONUS TRACKS: (B-sides, rarities, etc.)
Monochrome no Natsu
B-side of "True Romance." A really great pop-rock song; before I really learned of the lyrics, the term "Monochrome Summer" (the translated title) struck me as something bad or painful to remember — akin to a colorless, drab summer (somewhat like "My Little Town" by Simon and Garfunkel — "And after it rains there's a rainbow / And all of the colors are black / It's not that the colors aren't there / It's just imagination they lack"). But the song's not about that at all; instead, it refers to something like a sepia-toned photograph of a place you'd spend summers at, bringing back all sorts of nostalgic feelings when you look at the photo (that's not exactly it, but you get the idea).
Isshoni
A demo made by Shoko before the album was recorded. It's a pretty good track, but I'm not sure if it would have fit in on this album. This was released on SHO-CO-SONGS collection 3 in 2009.
Snapshots — like pretty much every other Shoko Suzuki album from this period — is out of print, but is available (along with Candy Apple Red) on the SHO-CO-SONGS collection 3. "Monochrome no Natsu" is available on the aforementioned SHO-CO-SONGS collection 3 set, as well as 2007's SHO-CO-JOURNEY collection. "Isshoni" is only available on SHO-CO-SONGS collection 3.
Oddball Verdict:
An amazing record.
OTHER SHOKO SUZUKI REVIEWS:
Viridian (1988)
Mizu no Kanmuri (1989)
Kaze no Tobira (1990)
Long Long Way Home (1990)
Hourglass (1991)
RadioGenic (1993)
Sings Bacharach & David (1994)
Candy Apple Red (1997)
Shishousetsu (1998)
Atarashii Ai no Uta (1999)
Love, painful love (2000)
I Was There, I'm Here (2003)
Suzuki Syoko (2006)
Sweet Serenity (2008)
Romances sans paroles~bande originale du film~ (2009)