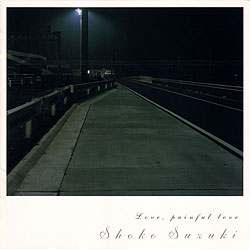 Original released on September 27, 2000 (held back from an originally announced release date of August 23), Love, painful love was Shoko Suzuki's first entirely self-produced album, and also her last original album recorded under her contract with Warner Music Japan — and also, her final album as an artist tied to a major label. After the release of this album, Shoko would become an indies artist, releasing many of her recordings herself on various independent labels (aside from one exception, but that comes later).
Aside from being self-produced, the album is notable in that Shoko played every single instrument on the record by herself — something that Paul McCartney, Todd Rundgren and Stevie Wonder had done to acclaim back in the 1970s, but something which female artists hadn't really done up to that point (the album's obi claimed this is the first record by a major-label female artist to be entirely self-performed). Regardless, one has to admit it's a pretty impressive feat, and Shoko pulls it off quite well — the songs certainly have a band "feel" to them. Among the instruments she tackles are piano, harpischord, electric piano, organ, drums/percussion, acoustic & electric guitar, bass, banjo and glockenspiel. The track arrangments jump around from heavy guitar rock to jangly folk to piano ballads to syntheized '80s-style electronic rock, displaying Shoko's versatility and willingness to try different things.
Along with the album title itself, the (somewhat loose) theme of the record is also more-or-less stated on the album's obi: 恋は苦しみ,愛は痛み (roughly translated, "Passion is anguish, love is pain."). These are not cheery songs of love, but rather about the darker side of it — "Fune (Crippled little boat)," for example, is about a woman killing the man she loves, then setting out on a rotting boat to die with him, all the while saying what she did was "not a crime" (set to a jaunty folk tune, no less). The narrator of the single "paingiver" is both defiant and in despair, both claiming she cannot die — while at the same time saying she is lonely and wants to die. "Sugar daddy baby" is fairly obvious, about a woman and her relationship with her sugar daddy; "Fuan na Iro no Blue (It rains, as it ends)" recalls the story of the end of a relationship…and so on, and so on.
(This is completely hypothetical on my part, but I can't help but wonder if events in Shoko's personal life — notably, she divorced her husband around the time this album was released — helped inspire the album's theme in any way.)
However, that's not to say that pain and heartbreak are all there is to this album — it also notably features Shoko's self-cover of "Watashi no Nozomi," a song she had written for Yumi Yoshimura (of Puffy) back in 1997. Shoko's version is slowed down a bit, so as not to sound quite as peppy as Yoshimura's original, but it remains one of the few happier moments on an otherwise dark album. There is also one cover tune, Shoko's version of Yasayuki Okamura's "Ikenai Kotokai."
Of note is the fact that there was a contest held in conjunction with this album (perhaps in an attempt to goose interest?). The CD's final track is a demo of an otherwise unreleased song called "Love, painful love"; the track is just over a minute long, with Shoko scat-singing while accompanying herself on piano. The contest was for someone to write their own lyrics to Shoko's tune, then send them in to Warner Music Japan. The prize, obviously, would be to have your lyrics sung by Shoko on a future album. However, to my knowledge, nothing ever came of the contest — certainly, Shoko has never released a proper version of "Love, painful love" (with lyrics by her or anyone else).
2000 wasn't an awfully productive year for Shoko's outside songwriting interests, and for whatever reason she limited herself to lyric writing only. She ended up writing the lyrics for a handful of songs for Soy, and a track apiece for actresses Yoshino Kimura ("15bun no Kyori") and Ryoko Shinohara ("Rhythm to Rule").
Love, painful love charted quite a bit better than Atarashii Ai no Uta had — it peaked at #57, but it only stayed on the album chart for one week. Unlike the last record — which had two singles released from it — "paingiver" was the album's lone single, and did not chart.
Shoko would not release a single for another four years, and her next studio album was six years away.
THE SONGS: (Click on a title for a sample, where applicable)
Like many of Shoko's older albums, the songs on this record have both a Japanese and English title (and the English is not necessarily a simple translation of the Japanese title).
Suika (I turned 17 today)
The record starts off with this pretty awesome guitar rock song, which seemingly takes its cue from '90s alternative rock by starting with a soft verse before heading into a head-bashing (and somewhat repetitive) chorus, before going back to quiet verses to end the track. I love this song.
A slightly different mix of this song — subtitled "sweet bleedingheart mix" — was released on the 2002 best album friends, lovers, my journey home. There really isn't much of a difference between the remix and the original, other than the guitars have a slightly fuller sound to them, and as such no sample of the remix is needed.
paingiver
The album's single, and another really good rock song. The song's PV, filmed in Los Angeles, showcases Shoko tackling all of the instruments on the song (and also has an excessive amount of stock-footage explosions).
Trivia: the PV for this song would be the last one Shoko would film until 2010. (!)
Fune (Crippled little boat)
A cheery sounding, yet quite morbid, folk song. Shoko shows off her talents on banjo here. Singing a song about killing your lover never sounded so bright and happy!
Watashi no Nozomi (Ambition)
As noted earlier, Shoko originally wrote this for Yumi Yoshimura of Puffy. This self-cover is a bit slower than the original, but is still just as good (if not better; I personally prefer it to Yumi's version).
Sugar daddy baby
A very minimal song, with an electric piano and a simple drum pattern dominating the arrangment (there is some electric guitar in the background, but it's mostly for flourishes here and there). This was the first song from the album to be released; it was first available as a coupling track on the "Atarashii Ai no Uta" single taken from the previous album (and thus potentially started Shoko's entire self-produced/self-performed project that resulted in this record).
Gimmie Some Life
This track is notable because it is a rock song that has no guitars on it — neither electric, acoustic or even bass guitars. What it does have is a huge, booming drum track and heavily distorted piano and harpsichord tracks. Despite the lack of guitars, this is one of the heaviest sounding tracks on the entire record (Shoko really lets loose on the drums).
Fuan na Iro no Blue (It rains, as it ends)
A truly gorgeous ballad carried by Shoko's keyboards and vocals (and a nice, if subtle, bass guitar part). Potentially my favorite song on the album.
Sickness
Pure synthesized '80s rock right here. Need I say more? It's possibly the catchiest track on the record.
I think Chief Oddball might like this track a little bit. 🙂
Ikenai Kotokai
The one song on the record not written by Shoko, it was originally released as a single by Yasuyuki Okamura in 1988. While the original is definitely recognizable as a pop song out of the 1980s, Shoko's version is totally stripped down, with only vocals and an acoustic piano (a style she was already embracing in concert, and would also use to great effect on her next studio album).
The track has also been covered by the likes of MEG (whose version was produced by Okamura) and Sharam-Q's singer Tsunku (who might be more well-known as the guy who foisted Hello! Project and its approximately eighty-five billion idol groups on the world at large).
Love, painful love (Demo)
I already explained the story behind this track in the body text above! It's literally Shoko playing a piano and singing "Love, painful love, da da da da" a few times before fading out.
I really wonder if anyone won the songwriting contest. Not that anyone else cares!
BONUS TRACKS (B-sides, rarities, etc.):
Aitakute Aitakute
The non-album B-side of "paingiver" which continues Shoko's then-recent trend of releasing cover songs as non-album B-sides (see also: "Never My Love" and "Hold me, touch me"). The original version — by Mari Sono — was released in 1966 (and performed by Sono at the 16th edition of Kohakku Uta Gassen on New Year's Eve 1965). Interestingly, the song takes its melody from "Teami no Kutsushita," a song by the singing duo The Peanuts that had been released in 1962.
Shoko's version is very haunting and beautiful. It's a shame this has never seen wide release on a collection album or anything of the sort.
Ikenai Kotokai (Live at Akasaka Blitz, Dec. 3, 2000)
Like "Suika," an alternate version — this time a live recording — of Shoko's cover of "Ikenai Kotokai" was included on the best-of album friends, lovers, my journey home. This live version is almost identical to this studio version, except Shoko waits a couple of extra beats before resuming the verses after the bridge. Again, no sample of this version is needed since it sounds almost exactly the same as Shoko's original recording.
Love, painful love has been out of print for some time. Roughly half the tracks are available on the friends, lovers, my journey home compilation, and "Aitakute Aitakute" was only available as the B-side of "paingiver" (and is thus also long out of print).
Oddball Verdict:
Brilliant.
OTHER SHOKO SUZUKI REVIEWS:
Viridian (1988)
Mizu no Kanmuri (1989)
Kaze no Tobira (1990)
Long Long Way Home (1990)
Hourglass (1991)
RadioGenic (1993)
Sings Bacharach & David (1994)
Snapshots (1995)
Candy Apple Red (1997)
Shishousetsu (1998)
Atarashii Ai no Uta (1999)
I Was There, I'm Here (2003)
Suzuki Syoko (2006)
Sweet Serenity (2008)
Romances sans paroles~bande originale du film~ (2009)