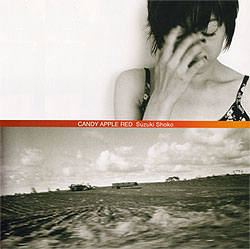 Candy Apple Red, Shoko Suzuki's final album recorded for Epic/Sony Records, was released on March 1, 1997. In hindsight, Shoko leaving her record company seemed to be a foregone conclusion — the record company wasn't happy with Snapshots, and Shoko presumably wasn't happy with how they handled her career after Hourglass. So after recording this record, she jumped ship and signed with Warner Music Japan in late 1997 (though she didn't leave the Sony fold completely, as her artist management company was Sony Music Artists, with whom she would remain signed until 2003).
Despite whatever hard feelings toward her record company were there on Shoko's part (if any), she didn't let it affect the quality of her music — Candy Apple Red is spectacular from start to finish. It continues in the rock-based vein of Snapshots, except it's even harder-edged. The band is once again the Snapshots lineup of Shoko, Hiroaki Sugawara and Takeshi Namura (no longer referred to as "Snapshots," though), augmented by the Tokyo Ska Paradise Orchestra horns, several female vocalists (some of whom even share lead vocal duties with Shoko), and a few others. Though the record was also produced by the "Snapshots" trio, Sugawara alone is responsible for the arrangments this time out.
Intriguingly, Shoko (in the liner notes of the Life,/Music&Love DVD) wrote that, at this time, two albums that deeply affected her — musically and lyrically — were Marvin Gaye's Let's Get It On and Bob Marley's Live! Musically, Candy Apple Red bears little resemblance to either of those albums; it's definitely more of a straight-forward guitar rock album. The few times it does step into R&B/funk territory, it's more of a upbeat R&B/funk (as opposed to Marvin's slow-jam-style funk and R&B), while there is no appreciable reggae influence to be found anywhere. Of the album's songs, Shoko is solely responsible for five tracks on the album, while Hiroaki Sugawara gets co-composer credit on about half the album. "Gogo no Sakamichi de" and "Angel" have lyrics by Keiichi Sokabe and Megumi Ogura, respectively, and Natsumi Tadano co-wrote the lyrics of both "Shelter" and "Sangatsu no Sei."
The album's title came about due to Shoko's then-recently acquired Fender Jaguar guitar — its color is named Candy Apple Red. The guitar was featured in the promo photos and album art for Candy Apple Red (the album) and "Angel" (the album's single). That guitar, along with a Fender Statocaster she acquired later (I believe), has remained Shoko's electric guitar of choice to this day (it's also featured heavily in the cover art and promotional photos for 2008's Sweet Serenity).
In addition to recording this album, the 1996/97 period was busiest for Shoko as a songwriter up to that point. Nothing she composed in this period matched the success of "Yasashii Ame," but it was during this time she began a lengthy association with Puffy, which would see Shoko's songs present on several major hit albums. Shoko's "Watashi no Nozomi" appeared on Yumi Yoshimura's half of Puffy's solosolo album (featuring a solo disc by each member of Puffy), which hit #2 in the summer of 1997 (several years later, Shoko would record and release her own version of "Watashi no Nozomi" on her Love, painful love record). Aside from that, Shoko's work was recorded by artists such as Emi Wakui, Akito Hayase, Mutsumi Inoue, Hikaru Nishida and Seiko Ishii.
Despite the phenomenal songs and musicianship on hand, Candy Apple Red did not set the album charts on fire. It stayed on the Oricon charts for 3 weeks, but only managed a peak position of #62. With that, Shoko's tenure with Epic/Sony Records had come to an end; she had achieved success with them, but in the end she left for a new record label — A.K.A. Records, owned by Warner Music Japan. There, she would expand her musical palette even further, and even partake in some groundbreaking work…
THE SONGS: (Click on a title for a sample, where applicable)
Candy Apple Red
The record opens with a brief, somewhat somber sounding brass piece, played entirely by the Tokyo Ska Paradise Orchestra horns. No sample because the track is literally 40 seconds long, and a sample would be essentially the entire piece.
Kurushii Koi
The record immediately kicks into high gear with this funky rock track, which features horn work from (again) the Tokyo Ska Paradise Orchestra brass section, and outstanding backing vocals from Yasumi Maeda and Reiko Sakai (from the female vocal group E-cups, who would continue to occasionally work with Shoko in the following years). There's also a wonderful drum track (and lead vocals) from Shoko, and appropriately funky guitar work from Hiroaki Sugawara. On an album filled with amazing songs, this is one of my absolute favorites.
Sulky Cat Strut
A bluesy number, with Shoko's effect-laden vocals and brushed drums taking center stage. Features some busy (and bouncy) bass guitar courtesy of Takeshi Namura.
Koi no Shotgun (Korinai Futari)
Another upbeat rock number with an awesome drum track by Shoko, and some nice slide guitar work by Sugawara. I wonder if Epic/Sony cut Shoko's budget for this album, as all of the string parts on this record are played on a synthesizer (while on past albums she had actual string sections). It doesn't make a difference (the songs are still awesome), but it's something I've wondered about.
Gogo no Sakamichi de
A '60s-inspired mid-tempo pop/rock number featuring another great bass line from Takeshi Namura.
Ecology Bag
Another '60s-influenced song, one that definitely reminds me of circa-1967 Beatles (I think it's the bouncy piano track and bouncy bass line in the verses that does it; for some reason they remind me somewhat of "Penny Lane"…or perhaps more accurately, "Doubleback Alley" by the Rutles).
Sangatsu no Sei
The most "out there" sounding track on the record. In spots it reminds me of "Strawberry Fields Forever" by the Beatles (mostly the mellotron-esque keyboard part at the beginning of the song); in others it makes me recall The Bends or OK Computer-era Radiohead. There's a bit of nice synth work on hand here, mostly courtesy of the EMS VCS 3.
Kimi no Akai Shirt ga
Yet another '60s-inspired song, with some Phil Spector-style girl group production touches here and there (like the tympani and castanets). Another one of my favorites on the record (though, again, pretty much the entire record is filled with great songs).
Shelter
The hardest rocking song on the album, and another favorite. Lots of loud guitar from Hiroaki Sugawara, and great vocals from Shoko.
Subete wa O.K.
Another girl-group-influenced track, featuring an actual girl group: "The Sexy Thresholds." Well, okay, it's not an actual group, but a name given in the album's liner notes to the song's four lead vocalists: Shoko, Yoshiko Goshima, Megumi Shinjou and Yoshiko Takahashi. The four vocalists split lead vocals and all sing backing vocals, and it certainly sounds like everyone involved with the song had a great time. Also: another killer bass line from Takeshi Namura (seriously, the man can play bass; have I mentioned that yet?).
Angel
The album's single, a horn-driven light funk number (with horns, yet again, from the guys in Tokyo Ska Paradise Orchestra). Yoshiko Goshima, who sang co-lead vocals on the previous track, is also featured here as the "angel voice" during the song's breakdown near the end. Like most of Shoko's previous singles, this record didn't chart.
Like Shoko's other singles in this period, "Angel" received a PV, which was seemingly filmed mostly in Shoko's home (more budget cuts from Epic/Sony?). Along with many shots of her Fender Jaguar, the video offers another surprise — Shoko (or Hiroaki Sugawara, I suppose, since she was married to him at the time) actually owns a Monkees-brand Gretsch 6123 (it's first clearly visible at the 2:04 mark of the PV). The guitar, seen to the right being played by Mike Nesmith of the Monkees back in 1967, can be easily identified mainly by the Monkees logo on its pickguard. Aside from the mind-blowing revelation of a Monkees-brand guitar in a Shoko Suzuki video, I also giggle at some of the dinner table scenes where Takeshi Namura is just chilling there with his bass, while everyone else eats (and Shoko, uh, sings).
River's End
Another solid rock song with awesome vocals from Shoko; for some reason I really like the clavinet part.
Bokutachi no Tabi
This song is "Dedicated to the very soul of Taro Okamoto," as the liner notes state. Okamoto, who died in 1996 before this album was released, was a famous artist; he is perhaps most known for his work Tower of the Sun made for Expo '70 (the tower itself was the subject of a Shonen Knife song, on their Brand New Knife album). As for the song itself, it's driven along largely by a mandolin line by KYON, and also a violin part by Hiroo Muto. Shoko's lead and backing vocals are also very nice.
Candy Apple Red (Reprise)
A reprise of the first track; it's essentially the exact same thing. As such, no sample again, because it's a very short track.
BONUS TRACKS (B-sides, rarities, etc.):
Never My Love
The B-side of "Angel," and actually a leftover from the Snapshots sessions. The song is a cover; the original was a hit for the Association back in 1967. In the liner notes for SHO-CO-SONGS collection 3, Shoko makes a point to note that the drum track on this song was not played on her trusty Ludwig kit; rather, she notes, a Yamaha YD9000 kit was used.
Kuroi Yoru
A demo from the Candy Apple Red era, unreleased until SHO-CO-SONGS collection 3 in 2009. Since the track's release, Shoko has occasionally played it live (and indeed, a live version of the song was released on Shoko's "My Sweet Surrender" single in April 2010). It's a fairly fast rock number, and pretty good.
Candy Apple Red is out of print, but is available (along with Snapshots) on SHO-CO-SONGS collection 3. "Never My Love" and "Kuroi Yoru" are also only available on that compilation currently.
Oddball Verdict:
A brilliant record.
OTHER SHOKO SUZUKI REVIEWS:
Viridian (1988)
Mizu no Kanmuri (1989)
Kaze no Tobira (1990)
Long Long Way Home (1990)
Hourglass (1991)
RadioGenic (1993)
Sings Bacharach & David (1994)
Snapshots (1995)
Shishousetsu (1998)
Atarashii Ai no Uta (1999)
Love, painful love (2000)
I Was There, I'm Here (2003)
Suzuki Syoko (2006)
Sweet Serenity (2008)
Romances sans paroles~bande originale du film~ (2009)