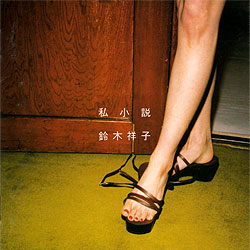 Shishousetsu, released August 26, 1998, was Shoko Suzuki's first album under her record contract with Warner Music Japan, with whom she signed after leaving Epic/Sony Records in 1997. Like her previous two albums there is an appreciable rock and roll influence; however, this is balanced with orchestrated pop, ballads and even a country number, making for a fairly diverse album (and more-or-less setting the pattern for many of Shoko's future releases, which all tend to have a fair bit of diversity to them).
Once again, both Hiroaki Sugawara and Takeshi Namura are along for the ride (the latter even leaving his A&R position with Epic/Sony in order to take a similar job with Warner), but not in the same fashion as on the previous two albums (where the trio recorded and performed as a band). The three of them — with Shoko on drums, Sugawara on guitar and Namura on bass — appear together on only one track, "Atashi no Basho de." Otherwise, Sugawara is a driving force on the record, playing guitar, bass, keyboards, arranging strings and programming.
However, despite his considerable input on the record, this would prove to be Hiroaki Sugawara's last apperance on a Shoko Suzuki album. His influence on Shoko's musical development is pretty significant, as arguably without Sugawara, Shoko's music wouldn't have made the turn from pop balladry to a more rock sound. The reasons why this was his last work with Shoko are beyond me, but Shoko's next album would see her return to her original producer (Yoshiyuki Sahashi), and after that she started self-producing, which she still does to this day.
This record is probably more notable to a casual fan because of its main guest star: rock legend Tamio Okuda. Okuda co-wrote and appears on two tracks, "Tashikamete Ite yo" (the album's single) and "Akai Mi ga Hajiketeta" (the single's B-side). Takeshi Namura plays bass on both of these tracks, his only other appearances on the album. Yuta Saito, who worked with Okuda on many things — including almost all of Puffy's albums up to that point — is also on hand, playing keyboards on the two Okuda songs. Additionally, Shoko and Tamio Okuda's paths would cross again the next year, when both of them wrote songs for and appeared on Puffy's Fever*Fever album.
In addition to Tamio Okuda's appearance, Shishousetsu received another boost when "Tashikamete Ite yo" was chosen to be the theme song to the televised drama Koori tsuku Natsu, which aired on YTV from July to September of 1998. The double exposure of the song — Tamio Okuda's apperance and its theme song status — likely helped it to become Shoko's highest charting single ever as an artist, which was probably welcome news for her new record label (and perhaps Shoko herself, after her most recent singles had failed to chart).
Shoko continued to write for other artists in this period, as well; 1998 saw her reunite with Kyoko Koizumi for a duet on the latter's KYO album, which reached the top 30 in late 1998. Other artists Shoko wrote songs for at this time include SOY, Naoyuki Fujii and Seiko Ishii.
Chart-wise, Shishousetsu represented a bit of a rebound after Candy Apple Red, staying on the charts for 2 weeks and reaching a peak of #45. Along with "Tashikamete Ite yo" charting, it was the first time since 1993 that Shoko charted a single and an album in the same year. Things were definitely looking up for Shoko, especially after the way her tenure with Epic/Sony had ended.
THE SONGS: (Click on a title for a sample, where applicable)
Kanzen na Ai
The record opens with a lush, orchestrated pop song driven by a sitar part from guest musician Tadahiro Wakabayashi. The track is a bit of a departure from the material on Shoko's previous two albums, featuring a light pop sound that harkens somewhat to Shoko's pre-Snapshots material. Of course, the song also runs for six minutes, so it's not too much of a stereotypical light pop song.
Also popping up at one point in the song is a slowed down Shoko fill. Hooray!
Prive
Another polished, orchestrated pop song, one carried by Yuta Saito's piano and a lush string backing.
This was supposed to be the album's single; it was given a catalog number (WPD6-9176) and a release date (June 5, 1998) before being canceled at pretty much the last second, and "Tashikamete Ite yo" was released in its place.
Damatte Waratte Soba ni Iru Onna
The first "rock" song on the record, unusual in that the dominant stringed instrument on the track is a banjo. The result is not nearly as weird as you might think, though, and this is one of my favorite songs on the record. Features some forceful vocals from Shoko.
Atashi no Basho de
A mid-tempo, country-ish pop song. Shoko's vocals and harmonies really shine here. Nobutaka Tsugei, who played banjo on the previous track, is responsible for the pedal steel guitar part on this song.
Tashikamete Ite yo
Despite Shoko's recent forays into guitar rock, and Tamio Okuda's own reputation as a rocker, their collaborations on this album are both mid-tempo pop. In addition to Tamio Okuda playing guitar and singing backing vocals, Yuta Saito plays keyboards and Takuo Yamamoto plays saxophone behind the rhythm section of Shoko and Takeshi Namura. As noted above, this was the album's single, and reached a peak of #50 on the singles chart.
Note: Had I published this review a few weeks ago there would have been a YouTube link to the song's PV right here. However, the person who had it up on their YouTube page had their account suspended. I could probably upload it to YouTube myself (all of Shoko's Warner-era PVs are available on the 2002 compilation Friends, lovers, my journey home) but I don't want to get hit with the copyright warning from Warner Music Japan.
Edit 5/3/10: Here is the PV.
Akai Mi ga Hajiketeta
The B-side of "Tashikamete Ite yo," and Tamio Okuda's other apperance on the album. This track is a bit more upbeat than its A-side, and features Yuta Saito on accordion.
Izon to Shihai
A really good blues-rock number, somewhat reminiscient of something the Rolling Stones might have recorded on Let It Bleed. The track stays mostly quiet until exploding into full-on rock mode at the end. In recent years, when playing this song live, Shoko will often extend the song with rewritten codas (as heard on I Was There, I'm Here in 2003) or spaced-out jams (as seen on the Life,/Music&Love DVD, where the track runs for nearly ten minutes).
Yoshihiro Matsuura plays slide guitar on this track.
Tada no Koi Dakara
A slower ballad featuring Shoko on piano accompanied by string and brass sections. A very pretty song.
Koi wa Yume no Hana
A slow-paced country ballad, with Nobutaka Tsugei on steel guitar and mandolin. The only track on the record with a drum track that Shoko does not play drums on (Hiroaki Sugawara is credited with programming).
Shoko would occasionally return to country ballads in the future, most notably on "Rose Pink no Cheek (my mama said, so)" on Sweet Serenity in 2008.
Nikki
A mid-tempo rock number led by Yoshihiro Matsuura's slide guitar and some nice vocal harmonies from Shoko. One of my favorite songs on the record.
Soshite nao Eien ni
The record ends with one of my favorite Shoko songs ever; a straight-ahead rock song driven by Shoko's drums and harmonies, and Hiroaki Sugawara's relentless electric guitar. Interestingly, they are the only two musicians on the track (Sugawara also plays bass).
BONUS TRACKS (B-sides, rarities, etc.):
On August 21, 1999 (bumped from an initial release date of April 1), Sony released its second Shoko Suzuki compilation, Atashi no Tabiji, which features songs from Hourglass through Candy Apple Red. Additionally, the record featured four bonus tracks, including two demos, a live cut and an actual outtake. Interestingly, at least two of those four bonus tracks were recorded in 1998 — during or around the time Shishousetsu was recorded…and well after Shoko had left Epic/Sony. I was always under the impression that this would mean that Warner Music would own those masters (as they were recorded under Shoko's contract with them), but apparently that's not the case in this instance.
Abunai Hashi (live)
This is a live recording of the song from Kaze no Tobira, recorded in 1998. It sounds virtually identical to the album version, except for a slight additional piano part that wasn't on the original version. As such, I didn't bother posting a sample.
Natsu wa Doko e Itta (Naked Love Mix)
A scratchy demo version of Shoko's debut single, with the bonus of the lyrics being in English.
No sample here, either, because it's a scratchy demo with rather poor sound quality — like, "recorded on a mono cassette recorder" sound quality (honestly, it probably was recorded on such a device).
Koibitotachi no Tsuki
The true find from Atashi no Tabiji, an outtake from the Shishousetsu sessions (which goes back to my "why does Epic/Sony own the rights to this recording?" bit from above).
This is a wonderful mid-tempo piano-led pop number, with nice harmonies from Shoko and Hiroaki Sugawara (I believe). I can't see any reason why this didn't make the cut on Shishousetsu proper, as it would have made an already-excellent album even better. Shoko has retained a fondness for this song through the years; a live version appears on I Was There, I'm Here, while a live in-the-studio performance is included on the upcoming DVD release of Shoko's documentary, Mugonka ~romances sans paroles~. Additionally, a version of this song is slated to be released on Shoko's upcoming single, "Sweet Surrender," due out on April 8th.
Todokanai Mono
A very brief piano demo of an otherwise unreleased song. No sample because the track is barely a minute long.
Sadly, Shishousetsu is out of print. I purchased my still-sealed copy through Amazon Japan's marketplace, but roughly half of the album's songs later turned up on the Friends, lovers, my journey home compilation, which is still sold through some online retailers. Atashi no Tabiji is also out of print, but the four new tracks from it were re-released on the SHO-CO-SONGS collection 3 box set in 2009.
Oddball Verdict:
An excellent, diverse album.
OTHER SHOKO SUZUKI REVIEWS:
Viridian (1988)
Mizu no Kanmuri (1989)
Kaze no Tobira (1990)
Long Long Way Home (1990)
Hourglass (1991)
RadioGenic (1993)
Sings Bacharach & David (1994)
Snapshots (1995)
Candy Apple Red (1997)
Atarashii Ai no Uta (1999)
Love, painful love (2000)
I Was There, I'm Here (2003)
Suzuki Syoko (2006)
Sweet Serenity (2008)
Romances sans paroles~bande originale du film~ (2009)