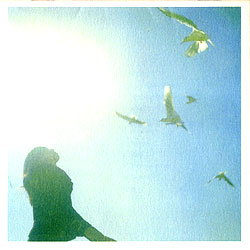 Shoko Suzuki's self-titled album, released on January 25, 2006, was her first studio album in over five years (Love, painful love was released in September 2000), and her first studio album as an indies artist. The music within is often a bit more abstract than what she had released in the past, perhaps owing in part to her association with the experimental rock band (and then-labelmates) ROVO, which is lead by former Boredoms guitarist Seiichi Yamamoto (Yamamoto doesn't appear on this album, but he does show up on Shoko's next album). The violin of ROVO's Yuji Katsui, in particular, is present on many of the album's tracks.
Though Shoko had kept a low profile on the record release front since leaving Warner Music Japan in 2000, she was still touring extensively and occasionally recording. Indeed, the Suzuki Syoko album was in development for years before it finally saw release — "Keiyaku (Spellbind)" first appeared on Shoko's previous release, the live I was there, I'm here, while "Ai no Namae" also dates from around that period (and first popped up as a demo on a free CD released in early 2003). Two singles preceded the album, each released a year apart — the double A-side "Blonde"/"Passion" single came out in April of 2004, and after staying away from the recording studio for a full year, recorded and released the "Love/Identified" (that's only one song title, not another double A-side) single — which featured "Nani ga Shitai no?" as a B-side — in April 2005. Additionally, "Boukyaku" and "Love is a sweet harmony" were available as demo versions on a special CD available during Shoko's tour in Spring 2004.
This means well over half the album was written and/or recorded at least a year (or more) before the album proper was finished and released. But amazingly, the record is not disjointed in any way; if anything, the album has a cohesive sound belying its lengthy gestation period (wow, that's perhaps the most pretentious sentence I've ever written), mostly due to the fact that most of the songs are built around Shoko's voice and piano playing. For the first time Shoko plays keyboards almost exclusively, leaving the other instrumentation (if any, as many of the songs are simply Shoko and her piano) to her musician friends.
The songs can be roughly split up into three groups: songs predominantly featuring Shoko and her piano, songs where Shoko is backed up by members of ROVO, and songs where Shoko is backed by Carnation, a more conventional guitar/bass/drums rock band. The ROVO-backed tracks probably stand out the most, due to Yuji Katsui's unconventional violin (often aided by equally-unconventional cellist Hiromichi Sakamoto — who is not a member of ROVO) blaring out over clattering rhythm tracks that play in anything but a standard tempo (indeed, it's often Shoko's piano that holds down the rhythm in these songs). The three tracks featuring Carnation — including a remake of "Radio no Youni" — are much more standard rock songs, but are also very good (and include "Boukyaku," one of my absolute favorite Shoko songs). The pieces highlighting Shoko's piano playing and vocals range from slow and dramatic ("Blonde," "Michi") to poppier fare like "Keiyaku (Spellbind)" and "Ai no Namae."
During this entire period, Shoko continued to work as a songwriter for other artists; indeed, in 2005 she began perhaps her most successful extended collaboration when she began writing songs for singer/voice actress Maaya Sakamoto. Since then, Shoko has written several singles for Maaya, and written a handful of album tracks for her as well. Other artists Shoko wrote songs for include the band Local Bus, and singers Naoyuki Fujii and Takui Nakajima. Additionally, in 2005 Shoko took time to produce a mini-album (Haru no Nioi) for Saki, a singer-songwriter who has since written songs for idol Yu Nakamura and idol group Idoling!!!; it was the first time Shoko had produced for anyone other than herself.
As Suzuki Syoko was an independent release (through the indie label wonderground music), it didn't chart very highly — it reached the Oricon album charts for one week, peaking at #132. Yet most independent releases don't chart that well in Japan, and it should be noted that both of the albums singles charted in the lower reaches of the singles chart — the first such time Shoko charted two singles from the same album.
On a more personal note, this was the first non-compilation Shoko Suzuki album I ever owned, and was the catalyst for me becoming a huge Shoko fan (the fact the album reminded me of Tori Amos — of whom I was a huge fan at the time — might have had something to do with it).
THE SONGS: (Click on a title for a sample, where applicable)
Ai no Namae
The record starts off with this piano ballad, a re-recording of a song that had appeared on a special giveaway disc three years before. Of note is the stripped-down, unpolished sound of the track — at one point Shoko's voice cracks, something that probably would have been fixed on past albums (or had an outside producer been responsible for the recording).
Love is a sweet harmony
Another stripped-down song, with only Shoko's singing (including all harmonies) and piano playing. I believe most of the songs with just Shoko solo with her piano (such as this and the preceding track) were recorded at her home.
The lyrics of this song are entirely in English.
Nani ga Shitai no? (naked mix)
Originally one of the B-sides of "Love/Identified." The single version has a slightly different mix, but the difference is is fairly negligible. The first appearance of the members of ROVO is here, with Yuji Katsui on electric violin and Yasuhiro Yoshigaki on drums; cellist Hiromichi Sakamoto is also on hand. This song, like the following, has a bit of a cluttered sound, with the drums often playing random fills instead of keeping time, and the stringed instruments sometimes are used to produce sound effects instead of playing any discernible melody — though these ideas are taken to a much further extreme on the following track.
Passion
Probably the most avant-garde song on the album; somewhat surprisingly, Shoko released it as a single (a double A-side with "Blonde"). Yuji Katsui and Hiromichi Sakamoto are both present on this track (on violin and cello, respectively), and there are two drum tracks: one by Shoko herself, the other by ex-Tipographical drummer Akira Sotoyama (Shoko also plays piano and harpsichord). The noise-rock tendencies of "Nani ga Shitai no?" are played out in full here, with neither drum track playing any sort of regular beat — indeed, both drum tracks are independent of each other, each one playing something different thoughout the song, including lots and lots of seemingly random fills (as noted above, Shoko's keyboards hold down the rhythm for the most part). The violin and cello also contribute greatly to the dense arrangment, with Sakamoto's cello in particular being used to generate lots of weird sounds and effects during the choruses.
Like "Love is a sweet harmony," the lyrics of this track are in English.
Keiyaku (Spellbind)
Another simple piano song, with Shoko's vocals and keyboards being augmented with a subtle French horn part by Hiroyuki Minami. This song was first released on I Was There, I'm Here in 2003, and this version sticks very closely to that live recording. One of my favorite tracks on the record.
Radio no Youni
For this and the following two songs, Shoko is joined by the rock band Carnation (Masahiro Naoe on guitar and backing vocals, Mamoru Ota on bass and backing vocals, and Hiroshi Yabe on drums and backing vocals). First is a re-recording of "Radio no Youni," which was originally the lead-off track on Shoko's RadioGenic album in 1993. For this re-recording, the emphasis was placed on the song's rockier elements, dispensing with any keyboards or complex backing vocals, leading to a rougher, unpolished rock sound. I prefer this version to the original, though I like both.
Frederick
The second track with Carnation is a cover of a song originally written by Patti Smith and released on Smith's 1979 album Wave (the song was apparently written for Fred "Sonic" Smith, former lead guitarist for the MC5). Shoko is on piano here.
Boukyaku
Shoko plays piano again on this gorgeous song, which is — for me — the high point of the record. There is a bit more of a focus on Shoko's piano and harmonies here, while the guys in Carnation tone down the rock a bit in favor of a more subtle backing. Just a wonderful song, and it was later included on the 2007 compilation SHO-CO-JOURNEY.
BONUS: A live concert clip of Shoko performing this song in 2006, taken from the I don't play no instruments/I wanna play my instruments DVD (which was also released in 2006).
Love/Identified
The A-side of the album's second official single, and a bit more straightforward rock than "Passion" and "Blonde" were. George Okamura plays guitar, bass and co-produces, while Hiromichi Sakamoto is on cello, and both of ROVO's drummers — Yasuhiro Yoshigaki and Youichi Okabe — are on hand. Somewhat like "Passion," neither drum track keeps the beat; the rhythm is mostly kept down by Shoko's piano and Okamura's electric guitar.
The version released as a single is slightly different mix-wise (but like "Nani ga Shitai no?", it's barely noticeable unless you really listen for it), and the ending is different: instead of the final guitar chord fading out like on the album, the single version ends with a quick, slashing guitar chord after where the album mix fades out.
Blonde
Along with "Passion," one of the double A-sides that made up the album's first single. Mostly Shoko and her piano, though Yuji Katsui is on hand with his electric violin, and late in the song some subtle drum rolls are added (played by Shoko, though the album's liner notes omit this credit; Shoko is credited with drums on the single, though). The inspiration for this song was Marylin Monroe, who was even thanked in the liner notes for the single.
At nearly seven minutes in length, this is Shoko's longest single A-side to date.
Michi
The record ends much as it began, with a song featuring only Shoko's singing and piano playing. Another very pretty song.
BONUS TRACKS (B-sides, rarities, etc.):
Daddy, I'm Home
The B-side of the "Blonde"/"Passion" single, done in the style of much of the album — Shoko singing alone while playing a keyboard (a harpsichord in this case). The lyrics are entirely in English. However, even though the lyrics are in English, the printed lyrics given on the single's sleeve are written in Japanese. A very pretty song.
I Need U2B Mine
This and the following four songs were available on an exclusive CD packed with a tour program offered during Shoko's spring 2004 tour, "bleeding heart, shaking tree 2" (the first "bleeding heart, shaking tree" tour was in 2000, in support for Love, painful love). The recordings were all either demos or live recordings, and most of the songs have yet to be officially recorded and released by Shoko on either a standard single or album.
The lead-off track on the CD is "I Need U2B Mine," a pretty good mid-tempo pop song with Shoko on keyboards and vocals (and a titled spelled like a Prince song, even). Like a number of Shoko's songs from this period, the lyrics are entirely in English.
Manatsu no Yoru no Koto
A live recording of an otherwise unreleased song, kind of similar to "Aisuru Koto wa Tsumi janai" (which this song's release pre-dates by a year) in that it's a fairly long, piano-based number with powerful vocals from Shoko.
Boukyaku (Woodstock version)
The first version of "Boukyaku," with Shoko performing solo with an electric piano. Notable because when Shoko plays this song solo in concerts, she usually plays acoustic or electric guitar as accompaniment instead of piano (as seen in the video clip of this song above).
Love is a sweet harmony (demo)
Not very different from the version released on Shoko's self-titled album; the only real difference is the quality of the recording, which is not as good as the official release (which is why I didn't bother with a sample).
A-kata no Koibito
The final track on the five-song bonus CD, and my personal favorite. It's a pretty brisk rock song with Shoko singing all the vocal parts and presumably playing all the instruments (though, interestingly enough, the song lacks a drum track). This might have made a good single.
Aisuru Koto wa Tsumi janai
The second B-side of the "Love/Identified" single (along with "Nani ga Shitai no?"), and a live recording — at over seven minutes, it's one of the longest songs Shoko has ever released. This is apparently a fairly old song — I've seen reports of Shoko playing this song live as far back as the tour for Snapshots in 1995. In addition to Shoko's vocal and piano, KYON (credited as "Dr. KYON" on the sleeve) is also on piano, and Tomio Inoue plays bass.
Kotoba (Live version)
This and the following three tracks were released as bonus tracks on the 2007 compilation SHO-CO-JOURNEY. "Kotoba" was originally released on Hourglass in 1991, and this live version (recorded in 2005) sounds almost exactly like the original. Very pretty.
Swallow (Live version)
Here, Shoko is on electric piano and joined by Carnation's drummer Hiroshi Yabe on pedal steel guitar(!). To be honest, the pedal steel part is kind of random sounding…I don't think it fits in too well. Overall, though, I slightly prefer this version of "Swallow" to the original, which has never been one of my favorite songs.
Tokyo de Umareta Onna (Live version)
An otherwise unreleased song, recorded in 2005, and featuring Shoko on electric piano. I really like this song, and think it would be nifty is Shoko would release a fleshed-out version (of course, I'd love for her to do that with pretty much all of the demos and stuff she released from 2003 on).
Michi (live version)
This live version was recorded in 2006, and sounds pretty much exactly like the regular album version.
Ma-akana Aki
A children's song Shoko contributed to the Lingkaran for Baby various artists CD in 2007. I don't own the CD, and thus have never heard this song. I'm listing it more-or-less for the sake of completeness, I guess.
MISCELLANEOUS (Live performances, TV apperances, etc.)
Soshite nao Eien ni
Tokimeki wa Namida ni Makenai – Both of these performances are taken from a 2004 concert that forms the basis of the concert/documentary DVD Life,/Music&Love, which was released in 2005. In the former performance, the band includes Yuji Katsui on elecric violin, Hiromichi Sakamoto on cello, and Yasuhiro Yoshigaki on drums.
Mata Kai one
Kaze no Tobira – These two performances are taken from the same 2006 concert as "Boukyaku" above, which was later released on DVD. The former song is a cover of a track by Akiko Yano, who covered "Natsu no Maboroshi" in 1995, and whose daughter recorded a song written by Shoko.
The Suzuki Syoko CD is still in print, and available from pretty much any online retailer that sells Japanese CDs; the same is true of the SHO-CO-JOURNEY album. Also, both the "Blonde" / "Passion" and "Love/Identified" CD singles are in print if your are interested in owning the B-sides on those singles. The tour booklet with the bonus CD from Shoko's 2004 tour used to be available from Shoko's web store (but only if you live in Japan), but it was taken down a while ago. Lastly, the Lingkaran for Baby album is still in print.
Oddball Verdict:
One of my favorites, but unlike most other Shoko Suzuki albums.
OTHER SHOKO SUZUKI REVIEWS:
Viridian (1988)
Mizu no Kanmuri (1989)
Kaze no Tobira (1990)
Long Long Way Home (1990)
Hourglass (1991)
RadioGenic (1993)
Sings Bacharach & David (1994)
Snapshots (1995)
Candy Apple Red (1997)
Shishousetsu (1998)
Atarashii Ai no Uta (1999)
Love, painful love (2000)
I Was There, I'm Here (2003)
Sweet Serenity (2008)
Romances sans paroles~bande originale du film~ (2009)