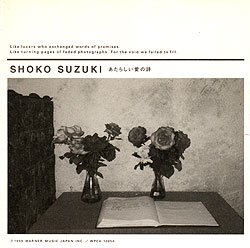 Atarashii Ai no Uta, released December 10, 1999, saw Shoko reunite with Yoshiyuki Sahashi, her original producer (and with whom she hadn't worked in any capacity since RadioGenic in 1993). After the retro '60s rock style of her previous three albums (all of which were co-produced with Hiroaki Sugawara), Atarashii Ai no Uta would see Shoko embrace more of an '80s-style of pop/rock music, something along the lines of music she began her career singing (albeit with more of a rock edge).
For the first time in several years, Shoko was not fully responsible for the drumming on this album. She plays drums on roughly half the tracks, with the rest featuring drumming by L.A. studio musician Russ Kunkel. Indeed, a good chunk of the record was recorded in Los Angeles with well-known L.A. session musicians, including a handful of backing vocalists (recalling Shoko's work on Sings Bacharach & David (several musicians from that album also play on Atarashii Ai no Uta). Elsewhere Shoko plays some piano and percussion, but largely it's studio musicians playing the bulk of the instruments.
While most of the songs on the record are written by Shoko alone, Yoshiyuki Sahashi does get co-composition credit on four tracks (Kuyakusho ni Ikou, Kodomo no Jikan, 25sai no On'na wa and Minami ni Drive-shite). Additionally, while most of the songs were arranged by Sahashi, the bluesy "Rinji Yatoi no Fitzgerald" was arranged by KYON (who had appeared on both Snapshots and Candy Apple Red). It is presumably because of Sahashi's influence that this record is more '80s-sounding than any of Shoko's then-recent albums, though the album's ballad-type songs trend more toward a Carole King/Tori Amos-style piano pop sound.
1999 was also a notable year for Shoko songwriting-wise. Perhaps most importantly, she wrote two songs (and co-wrote a third) on Puffy's Fever*Fever album. Additionally, Shoko added drums and backing vocals to the album, which went to #3 on the Oricon charts in the summer of 1999. Other artists Shoko wrote for during the same year were Rie Tomosaka ("Futari no Seijanai"), Soy ("Oshiete"), Naoyuki Fujii ("Yurushite Kudasai"), heaco ("Kon'na Watashi wo Waratte"), Nana Kondou ("Konkyo wa Naikedo"), and Maki Yano ("Ai yori Tooku").
Perhaps frustratingly for Shoko, Atarashii Ai no Uta became one of her lowest charting albums ever, entering the Oricon charts at #85 and staying there for only one week. Despite that, this became Shoko's first album since RadioGenic to have more than one single released from it (though neither single entered the singles chart at all). For her next — and last — original album for Warner Music Japan, Shoko decided to do everything herself, a bold step forward indeed. A glimpse of what was to come was included on the album's second single, "Atarashii Ai no Uta" — the B-side "Sugar Daddy Baby" featured Shoko performing all the instruments on the track and producing by herself.
THE SONGS: (Click on a title for a sample, where applicable)
Like many of Shoko's older albums, the songs on this record have both a Japanese and English title (and the English is not necessarily a simple translation of the Japanese title).
Kono Ai wo (This love)
The album's first single, a breezy piano pop number that sounds reminscient of circa-1991 Tori Amos. Yuta Saito plays the piano and programmed the drum track. As noted above, despite the relative success of Shoko's previous single (and album), this time around her singles did not chart.
BONUS: The song's PV, with some dual-screen trickery. There's also a live performance of this song taken from Shoko's "Writer" tour in early 2000.
Kuyakusho ni Ikou (Let's go to the city office)
Perhaps the bounciest song on the record, and one that's somewhat reminiscent of the similarly upbeat pop songs on RadioGenic. This is also one of the tracks that was recorded in L.A.
Mou Ichido (Hi, hello)
A really good '80s-style rock song, with prominent synths and a good backbeat from Shoko. Yoshiyuki Sahashi plays guitar hero on this one, with some nice extended soloing during the track's fadeout. One of my favorite songs on the record. Chief Oddball — '80s music lover extraordinaire — also likes this song. 🙂
BONUS: Live version from 2000, again taken from the "Writer" tour.
Itsuka mata Au Hi made (I'll be seeing you)
One of the few outright ballads on the album, and probably the best. It's largely acoustic, and features some lovely harmonies from Shoko. It also showcases sax work by Tokuo Yamamoto, who would continue to work with Shoko in the coming years.
BONUS: Another live performance taken from the "Writer" tour.
Ai wa Amakunai (Love is tough)
Another solid, upbeat pop/rock number. One of my favorite songs on the record.
Kodomo no Jikan (I was a child)
A pretty, albeit very short, ballad — it clocks in at just under a minute and a half. I actually kind of wish Shoko had made the long at least a little longer, since I like it a lot.
25sai no Onna wa (25)
A really funky rock song, and another one that was recorded in L.A. I really like this song; Shoko doesn't venture into funky grooves too often, so it's nice to hear her stretch out in that direction once in a while.
Hakyoku (Breakin' up)
This upbeat rock song is yet another of my favorites on the record. Apparently once again, my love for the harpsichord in pop music comes to the fore (though that's not the only reason I like the song).
Minami ni Drive-shite (Drive)
A mid-tempo, jangly pop song with a prominent (and kind of out-of-place) synth line. Recorded in L.A., and features pedal steel guitar work from noted session player Greg Leisz (whom I first became aware of through Matthew Sweet's records in the late '90s).
Rinji Yatoi no Fitzgerald (Blues in G)
A sort-of oddity, in that it's an acoustic blues number that's unlike anything else on the album (or much of Shoko's catalogue, really) — the production even emulates an old time, sort-of jazzy 1920s sound. Features backing vocals from Shoko, Yoshyuki Sahashi and Takuo Yamamoto.
BONUS: Another track from the live "Writer" tour — featuring Shoko on spoons!
Kikyou (Fisherman's wife)
A fairly standard piano ballad, but a really good one. Another track recorded in L.A., and once again Greg Leisz is featured on pedal steel.
Atarashii Ai no Uta (Brand new love song)
In contrast to most of the rest of the record, the title track utilizes a throwback, orchestrated '60s sound. The album version of this song includes a hidden bonus track, a short instrumental that sounds like it might be an orchestral version of this song (this hidden track is only on the album; the single and any compilation that contain "Atarashii Ai no Uta" excise it). This song was also recorded in L.A.
Shoko also filmed a music video for this song — nothing fancy, just shots of Shoko (in a fur coat) standing and singing amidst scenes of the city (with everything toned yellow for some reason). Alas, the video is no longer up on YouTube.
Edit 5/3/10: Here is the PV.
BONUS TRACKS (B-sides, rarities, etc.):
Hold me, touch me
B-side of "Kono Ai wo." An acoustic cover of the Paul Stanley song (which was the single taken from his 1978 solo album), produced by Yoshiyuki Sahashi.
Kikyou (demo version)
One of the two B-sides of "Atarashii Ai no Uta." It sounds very close to the released version, but without any additional instrumentation aside from the piano (and it's for this reason I didn't bother putting up a sample; it's actually very close to the version on I Was There, I'm Here, which will be reviewed soon…hopefully).
MISCELLANEOUS: (Live performances, TV apperances, etc.)
Yasashii Ame
Kaze ni Orenai Hana — Both of these performances are taken from Shoko's "Writer" tour in 2000, and are from the same broadcast as the other live clips in this post. They both are solo performances with Shoko accompanying herself on electric piano (I actually prefer "Kaze ni Orenai Hana" performed in this manner, and Shoko would later release a similar version on the Romances sans paroles soundtrack in 2009).
Atarashii Ai no Uta is out of print, but a handful of songs from the record are available on the friends, lovers, my journey home (as is "Hold me, touch me," which is otherwise unavailable, as the "Atarashii Ai no Uta" single also went out of print years ago). The title track is also available on the 2007 compilation SHO-CO-JOURNEY.
Oddball Verdict:
Perhaps the best 1980s rock album released in 1999.
OTHER SHOKO SUZUKI REVIEWS:
Viridian (1988)
Mizu no Kanmuri (1989)
Kaze no Tobira (1990)
Long Long Way Home (1990)
Hourglass (1991)
RadioGenic (1993)
Sings Bacharach & David (1994)
Snapshots (1995)
Candy Apple Red (1997)
Shishousetsu (1998)
Love, painful love (2000)
I Was There, I'm Here (2003)
Suzuki Syoko (2006)
Sweet Serenity (2008)
Romances sans paroles~bande originale du film~ (2009)